Details:
Laser Bird deterrent Scarer Control Green Dazzler lighting outdoor waterproof animal Repellent
Certification:CE
Type: Stage Lighting Effect
Power:0.9W
Voltage:110V
Beam Size-Aperture:2*6mm
Divergence full angle:0.9mrad
Scanning System:Stepper motor
Wavelength:G/520nm
Laser Power (mW):900
Power Supply:DC 12V/5A
Consumption:30w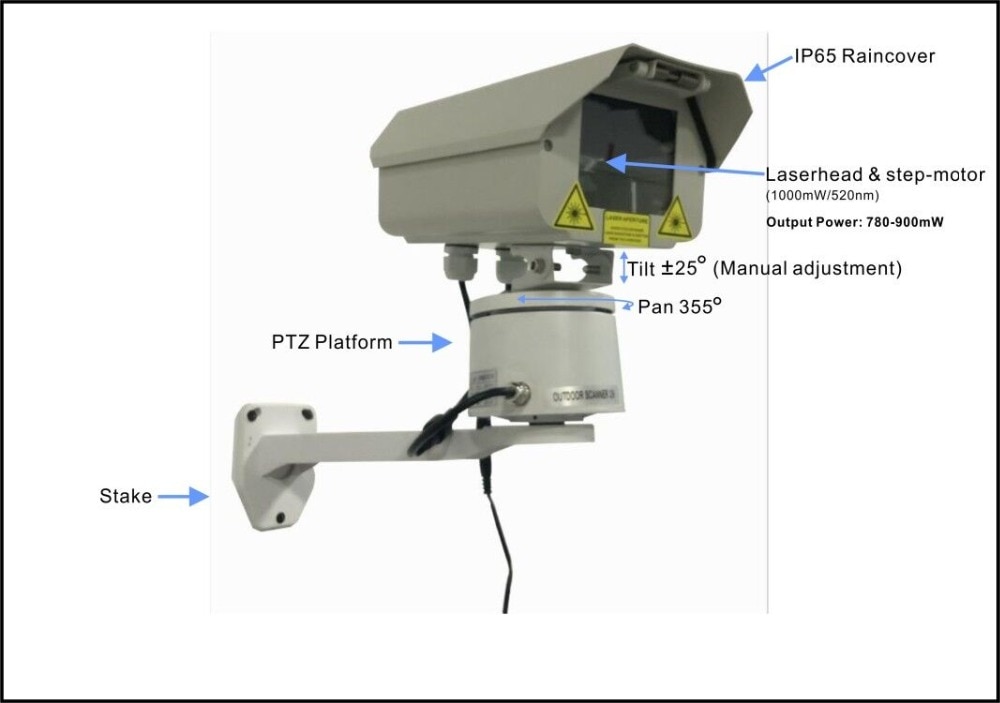 Laser wavelength 520nm

Laser power 900mW
Working mode Beam scanning
Scanner range Horizontal 38, vertical 38
Control method
1).5 minutes on,5 minutes off
2).Work during the day and standby at night
Mounting brackets Standard wall mount bracket
Rotating PTZ Horizontal automatic rotation 0-355,vertical manual adjustment 0-50
IP rating IP65
Rated voltage AC85-265V
Power Consumption 30W
Scanning System Stepper motor
NOTE:
Bird vision is very sensitive, especially for green lasers. This laser bird repellent developed by our company uses this feature to scan out the green laser beam to stimulate the birds visual experience during work, so as to achieve the effect of intimidating and driving away birds.
Application:
farms, orchards, aquaculture, transmission lines, etc.
Advantages (compared to known single-beam laser bird repellers):
The beam scanning laser has a large coverage area, similar to the pull-net scanning, so the driving efficiency is higher.
The beam scanning type makes the position of the laser beam not fixed and is not easy to cause physical damage.
Mainly production cover full diode laser module and DPSS Laser products, include wavelength 532 nm, 520 nm green laser module, power from 20 mW to 10 W; wavelength 650nm, 638nm red laser diode, power from 100 mW to 4 W, and wavelength 405 nm, 450 nm, 465 nm blue laser module, power from 50 mW to 30 W, at the same time, we can provide you RGY, RGB color full laser products series, and optical mirror, stage laser show system. OEM and ODM laser products.
Our products are widely applied to laser night vision, stage lighting, laser show, outdoor lighting, Christmas decorations, 3D printing, scientific research, industrial measurement and detection, medical equipment and other fields.
After-sales service and warranty
The product warranty period is 24 months, can provide free maintenance service software or hardware failure due to quality problems caused by the product itself.
During the warranty period, the product To return the original repair, the buyer need to pay between transportation costs, and we should follow the recommendations of transport, as a result of the buyer does not obey our propositions lead to additional costs transport (such as taxes) borne by the buyer; no need to return the original, such as repair, we will provide the appropriate maintenance information and instruction manual to the seller, according to the actual situation may send appropriate accessories for the buyer and negotiate whether to replace damaged parts should be returned Transportation costs incurred during borne by the buyer.
3.Man-made damage, broken, into the water, moisture, to make alterations or demolition of the product, the need for the charging process, such as irreparable fault, not provide warranty service.
Warranty voids for the damages or injuries caused by improper operation and projection, such as wrong input voltage, water immerse, physical shock, and so on.
After the warranty period, if the product fails, the company still provide free repair, for replacement parts, we only charge fees related accessories, such products during the additional costs (such as products need to return to the original, or the buyer requests us Send repair parts) be borne by the buyer.